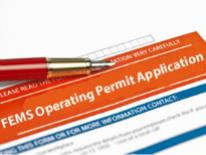 The DC Fire & EMS Department Fire Prevention Division (FPD) is responsible for ensuring safe operational practices of those individuals, companies, and businesses who wish to use or participate in operations that are considered to be hazardous and pose a potential threat to the safety and well being of the general public, patrons, and visitors to District of Columbia.

To make this possible, there are certain operations and practices that require a proper fire code compliance review and the issuance of an operational permit from the Fire Chief.
Operational permits are required as specified in the IFC 2006 Edition and the Title 12 DCMR 12H Fire Code Supplement (2008).
The operational permit provides the Fire Prevention Division the opportunity to inspect the hazardous use or storage and become aware of these target hazards within the community, and ensuring all fire and life safety concerns are addressed while conducting operations.
Further detailed information regarding the operational permits can be obtained from the DC Fire & EMS Department Fire Prevention Division located at1100 4th Street SW Suite E700, Washington, DC 20024, and Phone (202) 727-1614. The FPD Division hours of operation are 8:15am to 16:45pm Monday through Friday.
Many hazardous conditions require an operational permit including Aerosol Products, Carnivals and Fairs, Exhibits and Trade Shows, Industrial Ovens and Waste handling. Please select here for the complete list.