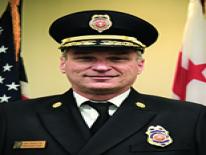 Fire and EMS Chief John A. Donnelly, Sr. was nominated by Mayor Muriel Bowser on September 4, 2020 to serve as the next Fire and Emergency Medical Services Chief and to lead the 2,100 member DC Fire and Emergency Medical Services Department. He was confirmed by the Council of the District of Columbia on December 15, 2020.
Fire and EMS Chief John A. Donnelly, Sr. started his career with DC Fire and EMS in 1992 at Truck 16. Over the course of his career he has served at Rescue Squad 3, Tower 3, Battalion Fire Chief 2; as the Division Commander of Special Operations, Homeland Security, and Apparatus Division; and as a member of the Command Staff in Special Projects and Executive Officer Roles.
In 2018, Chief Donnelly was promoted to the newly established Professional Development Bureau which includes the Human Resources Division which includes the Payroll and Compliance Offices, Professional Standards Division, Training Division, the Medical Services Division, and the Grants Office.
Chief Donnelly serves on numerous committees supporting regional and national preparedness, including the International Association of Fire Chiefs Terrorism and Homeland Security Committee and the Metropolitan Washington Council of Government's Fire Chief's Committee.
Chief Donnelly is a long-time Ward 4 resident of the District of Columbia and lives in Manor Park. He spends his free time working with the Boy Scouts of Troop 98 in Brookland.
Official Photo of
John A. Donnelly, Sr.
Fire & EMS Chief
(To download, right click and select "Save Image As")