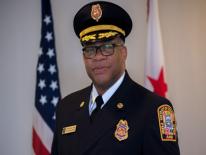 Chief Gregory M. Dean was appointed by Mayor Muriel Bowser to lead the 2,100 member DC Fire and Emergency Medical Services Department (DCFEMS).
Dean previously served for 10 years as the Fire EMS chief for Seattle, Washington, where he led the administrative and operational functions of a team of 1,150 employees with a $175 million budget. He entered the Seattle Fire Department as a trainee in 1970 and rose through the ranks to become chief. During his tenure in Seattle, he served as fire marshal, assistant chief of administration, deputy chief of personnel and deputy chief of support services.
Chief Dean has also served on the board for the Medic One Foundation, a nationally recognized paramedic training program; and on the Terrorism and Homeland Security Committee for the International Association of Fire Chiefs.
A Seattle native, Chief Dean received a degree in business administration from the University of Phoenix and is a graduate of the Naval Postgraduate School Homeland Security Executive Leadership Program.