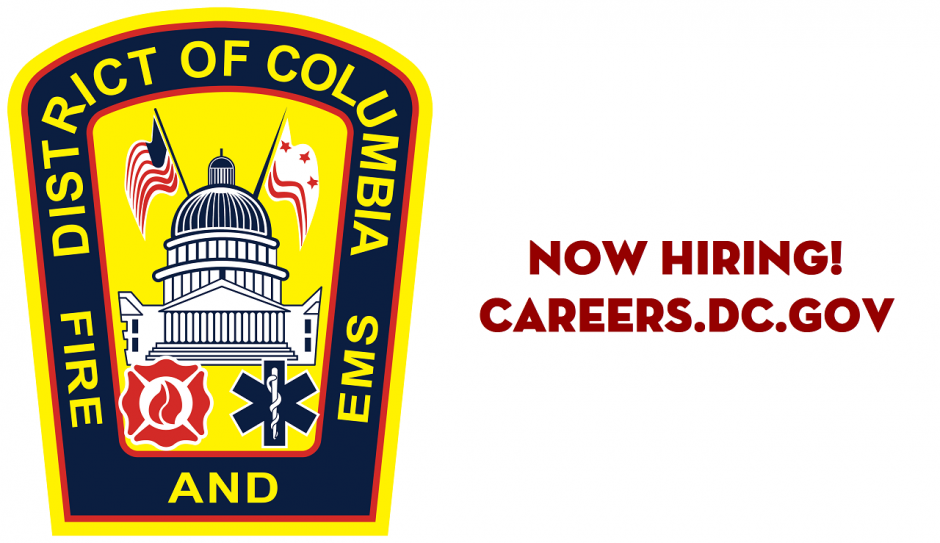 DC Fire and EMS is currently hiring the following positions:
1) Program Support Assistant
Date Closing: November 6, 2019
This position is located in the Fleet Maintenance Division of the District of Columbia Fire and Emergency Medical Services Department (DCFEMS). In the Fleet Division our team members are the heart and soul of our company. We take pride in our equipment, our work and team. We respect and value our team members and the contributions they make toward our success. At DCFEMS, you will work in a respectful and safe environment where you are a member of DC FEMS Fleet family. The fleet department procures and repairs the apparatus used by the department.
The primary purpose of this position is to provide program support assistant duties in providing a variety of clerical and administrative functions that are auxiliary to the supervisor's responsibilities in the management of the complete program. The Incumbent uses considerable discretion and independent judgment in the performance of duties.
2) Firefighter/Paramedics
Date Closing: October 30, 2019

This position is in the D.C. Fire and Emergency Medical Services Department (DCFEMS). DCFEMS provides fire suppression, technical rescue, fire prevention, education, and pre-hospital care and transportation services to people within the District to protect life and property. DCFEMS firefighter paramedics can work in a fast-paced, high call volume jurisdiction with unique and high-profile special events related to its status as the Nation's Capital. The Department's diverse mission also gives firefighter paramedics the opportunity to apply for positions in all four of its disciplines throughout their careers. Firefighter/Paramedic is assigned to one of approximately thirty-three fire stations throughout the District of Columbia. The incumbent will primarily travel by Medic Unit and Fire Unit in a prompt and efficient manner in response to calls for emergency medical care of critically ill or injured patients.
3) Training Instructor
Date Closing: October 29. 2019
This position is located in the District of Columbia Fire and Emergency Medical Services Department (DCFEMS), Training Academy Division. The primary purpose of the position is to serve as an instructor for initial certification and re-certification courses for DCFEMS Emergency Medical Technician – Basic (EMT), Emergency Medical Technician – Paramedic (paramedic), new hires, and current members, as well as members of other District and federal agencies as needed.
These courses include those that fall under the auspices of the National Registry of Emergency Medical Technicians (NREMT), the National Association of EMT's (NAEMT), and the American Heart Association (AHA), as well as other courses specified by the EMS Training Administrator and Deputy Fire Chief (DFC) of Training.
Notice of Non-Discrimination
Notice of Non-Discrimination: In accordance with the D.C. Human Rights Act of 1977, as amended, D.C. Official Code, Section 2-1401.01 et. seq., (Act) the District of Columbia does not discriminate on the basis of actual or perceived: race, color, religion, national origin, sex, age, marital status, personal appearance, sexual orientation, gender identity or expression, familial status, family responsibilities, matriculation, political affiliation, genetic information, disability, source of income, or place of residence or business. Sexual harassment is a form of sex discrimination which is also prohibited by the Act. In addition, harassment based on any of the above protected categories is prohibited by the Act. Discrimination in violation of the Act will not be tolerated. Violators will be subject to disciplinary action.