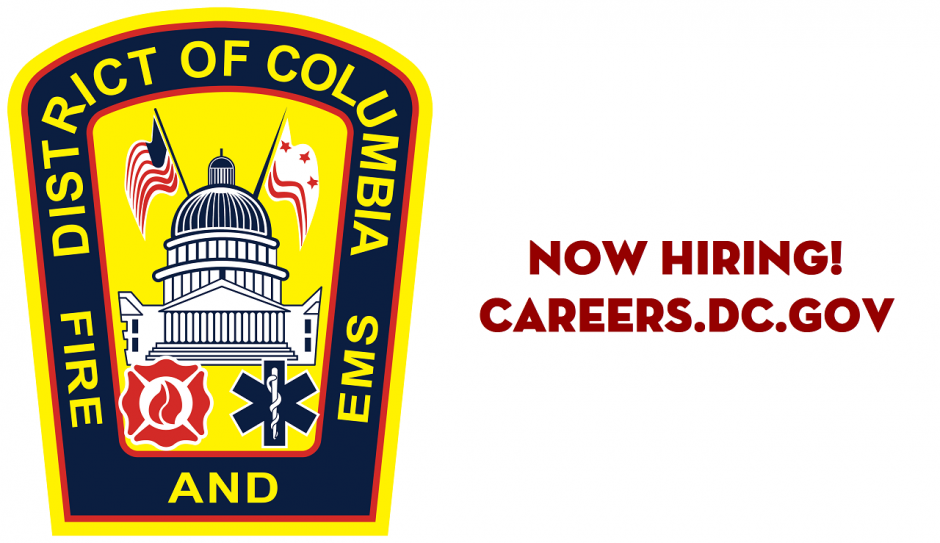 DC Fire and EMS is currently hiring the following positions...
1) Firefighter/Paramedic
Closing Date: July 11, 2021
This position is in the DC Fire and Emergency Medical Services Department (DC FEMS). DC FEMS provides fire suppression, technical rescue, fire prevention, education, and pre-hospital care and transportation services to people within the District to protect life and property.
DC FEMS firefighter paramedics can work in a fast-paced, high call volume jurisdiction with unique and high-profile special events related to its status as the Nation's Capital. The Department's diverse mission also gives firefighter paramedics the opportunity to apply for positions in all four of its disciplines throughout their careers. Firefighter/Paramedic is assigned to one of approximately thirty-three fire stations throughout the District of Columbia. The incumbent will primarily travel by Medic Unit and Fire Unit in a prompt and efficient manner in response to calls for emergency medical care of critically ill or injured patients.
2) Heavy Mobile Equipment Mechanic
Closing Date: June 25, 2021
At DC Fire and Emergency Medical Services (DC FEMS) Fleet Division, our team members are the heart and soul of our company. We take pride in our equipment, our work and our team. We respect and value our team members and the contributions they make toward our success. At DCFEMS, you will work in a respectful and safe environment where you are a member of the DC FEMS Fleet family. Many of our team members have experienced unparalleled growth opportunities, with many building lifelong careers within our company. The fleets division is looking for an individual who wants to be an integral part of making our organization stronger and more efficient. If you get a kick out of why something isn't working and making it work, then DC FEMS might be just the right fit for you.
This position is located in the Apparatus/Fleet Maintenance Division of the District of Columbia Fire and Emergency Medical Services Department (DC FEMS). Our Heavy Mobile Equipment Mechanics work under the general direction of the foreman and receives daily direction either orally or by shop repair order.
Notice of Non-Discrimination
Notice of Non-Discrimination: In accordance with the D.C. Human Rights Act of 1977, as amended, DC Official Code, Section 2-1401.01 et. seq., (Act) the District of Columbia does not discriminate on the basis of actual or perceived: race, color, religion, national origin, sex, age, marital status, personal appearance, sexual orientation, gender identity or expression, familial status, family responsibilities, matriculation, political affiliation, genetic information, disability, source of income, or place of residence or business. Sexual harassment is a form of sex discrimination which is also prohibited by the Act. In addition, harassment based on any of the above-protected categories is prohibited by the Act. Discrimination in violation of the Act will not be tolerated. Violators will be subject to disciplinary action.