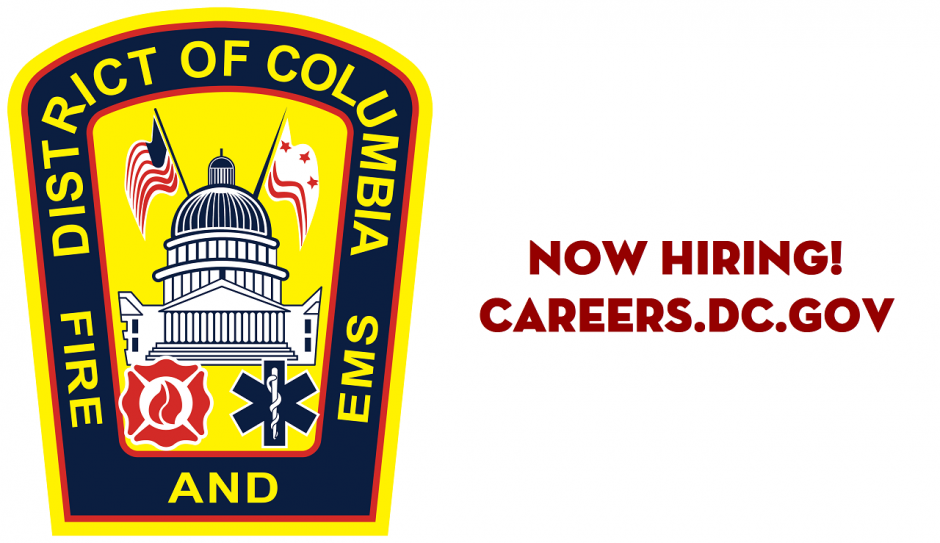 Firefighter/Emergency Medical Technician Position
The Firefighter/Emergency Medical Technician position is not currently open.
Please check this page frequently for any updates.
Any public announcements relating to this position or the entrance exam will be announced on our official social media accounts on Facebook and Twitter
DC Fire and EMS is currently hiring the following position:
(Click on the link for more information and to apply)
1) Heavy Equipment Repairer
Closing Date: May 8, 2019
The DC Fire and Emergency Medical Services Department employs a workforce of approximately 2,000 to include Firefighter/EMTs, Paramedic/Firefighters, single-role Paramedics, single-role EMTs, and civilian employees. The Department serves a resident population of 580,000, a daytime population of more than 1 million people, and is the first responder to the White House and the US Capitol Building. We operate 33 Fire/EMS stations and a fire boat 24 hours a day, 365 days a year. The Department provides fire suppression, pre-hospital care and transport, technical rescue, hazardous materials response, and fire prevention and education for everyone within the District of Columbia.
For a list of our current vacancies, please go to Careers.DC.Gov
For more career information, visit DCHR Careers
Notice of Non-Discrimination
Notice of Non-Discrimination: In accordance with the D.C. Human Rights Act of 1977, as amended, D.C. Official Code, Section 2-1401.01 et. seq., (Act) the District of Columbia does not discriminate on the basis of actual or perceived: race, color, religion, national origin, sex, age, marital status, personal appearance, sexual orientation, gender identity or expression, familial status, family responsibilities, matriculation, political affiliation, genetic information, disability, source of income, or place of residence or business. Sexual harassment is a form of sex discrimination which is also prohibited by the Act. In addition, harassment based on any of the above protected categories is prohibited by the Act. Discrimination in violation of the Act will not be tolerated. Violators will be subject to disciplinary action.