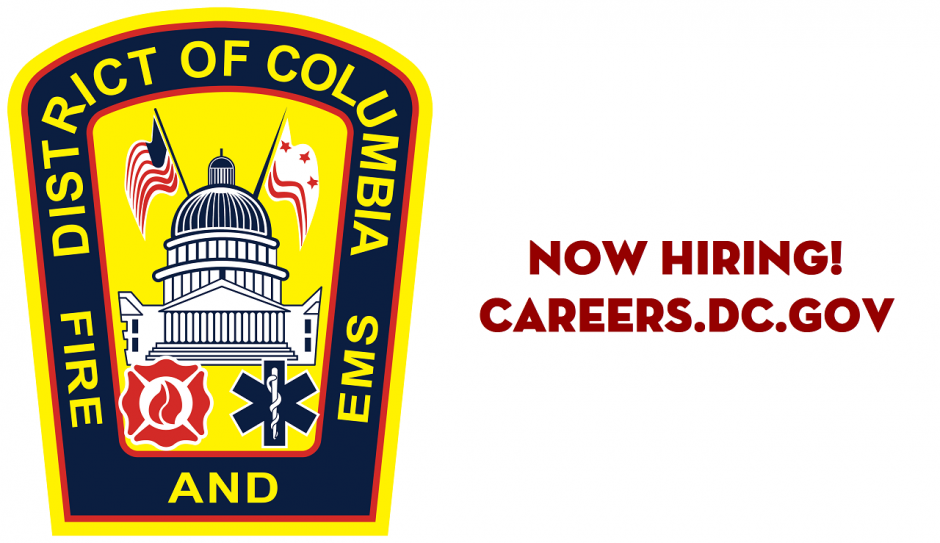 DC Fire and EMS is currently hiring the following positions
1) Firefighter/Paramedic
Closing Date: October 31, 2021
This position is in the DC Fire and Emergency Medical Services Department (DC FEMS). DC FEMS provides fire suppression, technical rescue, fire prevention, education, and pre-hospital care and transportation services to people within the District to protect life and property.
DC FEMS firefighter paramedics can work in a fast-paced, high call volume jurisdiction with unique and high-profile special events related to its status as the Nation's Capital. The Department's diverse mission also gives firefighter paramedics the opportunity to apply for positions in all four of its disciplines throughout their careers. Firefighter/Paramedic is assigned to one of approximately thirty-three fire stations throughout the District of Columbia. The incumbent will primarily travel by Medic Unit and Fire Unit in a prompt and efficient manner in response to calls for emergency medical care of critically ill or injured patients.
Vaccination Requirement: The Government of the District of Columbia values the safety of our employees, our residents, and our visitors. In support of these values, if you are selected for this job you must be fully vaccinated against COVID-19, except when vaccination is not medically advised or violates your sincerely held religious beliefs. If you are invited to join our team, you must submit proof that you are fully vaccinated against COVID-19 to your initial HR representative, or you must request an exemption from your representative. New employees must either provide proof of vaccination or be granted a medical or religious exemption before working with the Government of the District of Columbia.
Notice of Non-Discrimination
Notice of Non-Discrimination: In accordance with the D.C. Human Rights Act of 1977, as amended, DC Official Code, Section 2-1401.01 et. seq., (Act) the District of Columbia does not discriminate on the basis of actual or perceived: race, color, religion, national origin, sex, age, marital status, personal appearance, sexual orientation, gender identity or expression, familial status, family responsibilities, matriculation, political affiliation, genetic information, disability, source of income, or place of residence or business. Sexual harassment is a form of sex discrimination which is also prohibited by the Act. In addition, harassment based on any of the above-protected categories is prohibited by the Act. Discrimination in violation of the Act will not be tolerated. Violators will be subject to disciplinary action.