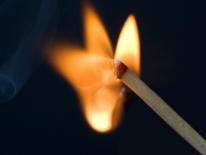 The Facts
Fires and burns are the leading causes of injury and death to children.
Children are twice as likely as adults to die in a fire.
Even toddlers can start a fire with a match or a lighter.
Of every 100 people who die in child-set fires, 85 are children.
A firesetter is a child under the age of 18 who has accidentally or purposely set a fire.
The Program
The Juvenile Firesetter's Intervention Program is a four week intervention program which services children between the ages 2-17 who have exhibited fire related behavior. The program is designed to enlighten parents and children about fire safety and the consequences of fire. Not only does this program assess the child's need for educational services, it also provides education for children who have not set a fire but have been involved in a fire incident or displays a curiosity about fire.
Referrals
Primarily, referrals are made by members of the fire department and the juvenile court who come in contact with juveniles who are involved in fire incidents; however, anyone who cares about the safety of our children (parents, family, friends, neighbors, or others) can call for help or complete the referral form link below.
For further information contact:
The Juvenile Firesetter's Intervention Program
(202) 727-2215 or (202) 727-1600