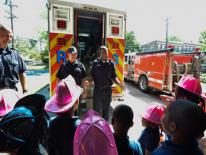 Tours of your local fire station are available upon request. A tour lasts approximately 30 to 40 minutes and includes:
Meeting firefighters, paramedics and emergency medical technicians (EMTs);
A fire safety presentation;
An engine house tour;
An apparatus display;
A stop, drop, cover your face and roll demonstration with a firefighter;
Questions and answers time for participants.
Tour Criteria
Tour may be scheduled from Monday through Saturday between the hours of 9 am to 11am and 1 pm to 5 pm.;
Request must be submitted at least two weeks before the tour;
Group size must be 30 or fewer total participants (including children and chaperones). There must be 1 adult chaperone for every 8 children.
Fire Boat Tours
Fire boat tours are offered on a case by case basis.
Request either tour by calling (202) 673-3331.