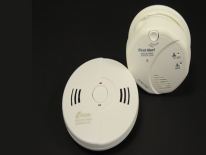 El Programa de Instalación y Entrega Gratuita de Detectores de Humo Asia Sutton es una iniciativa del Departamento de Bomberos y Servicios de Emergencia Médica del Distrito de Columbia (District of Columbia Fire and Emergency Medical Services, DCFEMS) para todo el Distrito cuyo objetivo es garantizar que todas las viviendas del Distrito de Columbia tengan detectores de humo que funcionen. Estamos convencidos de que los detectores de humo operativos son el artefacto más importante de una vivienda, ya que se ha demostrado que salvan vidas.
Los datos estadísticos indican que la mayoría de las muertes a causa de incendios ocurren en viviendas donde no hay detectores de humo o donde los detectores no funcionan bien. Solo en el año 2009, el Distrito perdió a 19 residentes a causa de incendios en viviendas. Los datos estadísticos indican que tener en las viviendas detectores de humo que funcionen bien puede reducir considerablemente el riesgo de muerte por incendio en residencias.
Los requisitos para recibir un detector de humo son los siguientes:
Debe vivir en el Distrito de Columbia y mostrar un comprobante de residencia.
Debe ser propietario y vivir en esa vivienda (no debe ser una propiedad rentada).
El Departamento instalará el detector de humo.
Los detectores de humo pueden solicitarse enviando por internet una solicitud de servicio - service request online.Use el signo de más para buscar y completar el Formulario de Solicitud de Detector de Humo o para hacer cualquier otra solicitud de servicio al DCFEMS. Tenga en cuenta que el procesamiento de su solicitud puede demorar al menos 24 horas. Si tiene alguna pregunta o inquietud, llame al (202) 727-1614 o al (202) 673-3331.
Nota: El DCFEMS hará todo cuanto sea posible para cumplir con la fecha y el horario solicitados. Las unidades asignadas para instalar los detectores de humo llamarán de 30 minutos a 1 hora antes del horario solicitado para asegurarse de que el residente se encuentre en la vivienda. Sin embargo, si la unidad asignada para instalar la alarma recibe una llamada de emergencia, deberá responder primero a esa emergencia. Esto significa que es posible que llegue tarde o que no cumpla con el horario programado. Una vez solucionada la emergencia, el personal lo llamará para volver a programar un turno.
Comunicación con dispositivo de teletipo (TTY):
711