CONTACT:
Tim Wilson (DCFEMS) (202) 673-3298; [email protected]
Michael Rupert (EOM) (202) 657-3831; [email protected]
(Washington, DC) – Today, DC Fire and Emergency Medical Services Department (DCFEMS) announced additional public and media logistic details for the funeral service, procession and interment for Lt. Kevin McRae on Friday, May 15.

The funeral service is open to the public. All non-DCFEMS attendees will be directed to park in RFK Stadium, Lots 1, 2, and 3.
All media planning to cover events at the DC Armory and/or Fort Lincoln Cemetery are strongly encouraged to RSVP to [email protected].
Funeral Service
The funeral for Lt. McRae will take place at the D.C. Armory. Members of the McRae family, Mayor Bowser, Acting DCFEMS Chief Gregory M. Dean, D.C. Council Chairman Phil Mendelson, Representative Eleanor Holmes Norton and other dignitaries will eulogize Lt. McRae.

Press check-in will be located outside the main entrance to the Armory. Media will be escorted through security and to the designated media area.

A riser, multbox, power and strong ethernet connections will be provided on a first-come, first-served basis and in a designated location where cameras will be allowed. Wireless internet access will be provided, but not guaranteed. Reporters are encouraged to bring mobile hot-spots.

Parking for satellite trucks will be available on the median between 22nd St. SE and 22nd St. NE directly in front of RFK Stadium.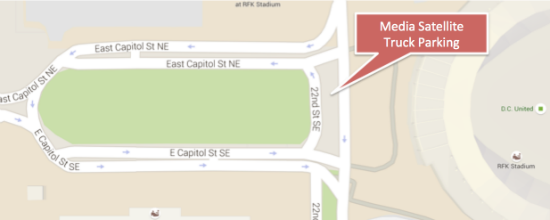 The Office of Cable Television will stream the service and provide a pool feed if needed.

For pool information or on-site media logistics, contact Michael Rupert at (202) 657-3831or [email protected].
8:30 am - Pre-set time for TV Cameras
9 am - Public Viewing
11 am - Public Service
DC Armory
20001 East Capitol St. SE
Washington, DC 20003
*Media must RSVP to [email protected]
Procession
Following the service and the "Sea of Blue" ceremony, Lt. Kevin McRae's body will lead a procession through the District of Columbia before the interment at Fort Lincoln Cemetery. A map is available here.
Interment
Press will be provided an area to cover the interment. No power, riser or multbox will be provided. Press will be directed to park on the road leading to the mausoleum within Fort Lincoln Cemetery.

3:00-3:30 pm (estimated)
Fort Lincoln Cemetery
3401 Bladensburg Rd.
Brentwood, MD 20722
*Media must RSVP to [email protected]

For on-site media logistics at the interment, contact Tim Wilson at (202) 673-3298.
Other Media Logistics:
DCFEMS will hold a conference call to discuss media logistics only on Thursday, May 14 at 1:30 pm

Call Information:
Conference number: 886-763-4135
Passcode: 5603498
Background on Lt. Kevin McRae
At about 8:15 a.m. Wednesday, May 6th, Lt. Kevin McRae responded with his crew to a fire on the ninth floor of an apartment building at 1330 7th St. NW. After descending the stairs with his crew, he collapsed. He was immediately assessed and treated by paramedics on the scene. He was transported from the fire ground to the hospital, where he later passed away. The cause of death has not been determined.

"The McRae family has experienced the tragic loss of their son, brother, husband, father, nephew, cousin and uncle. It's important for them to know we are here for them," said Acting DCFEMS Chief Gregory M. Dean. "We are deeply saddened by the death of our brother and friend, Lt. Kevin McRae."

Lt. McRae, 44, was a graduate of Frank W. Ballou High School in the District. He joined the Department through the cadet program in July 1989. He was promoted to the rank of sergeant in 2003; then promoted to lieutenant in 2008. He is the 100th DC Fire and EMS Department firefighter to die in the line of duty.

Donations can be mailed to:
DC Fire and EMS Foundation, Inc
c/o Kevin McRae Survivor Fund
439 New Jersey Ave. NW
Washington, DC 20001