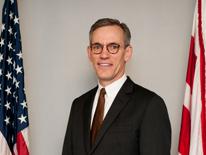 Doctor Robert Holman, began his medical career by attending the Georgetown University School of Medicine. He continued on to intern at Emory University in Atlanta, Georgia, and returned to the District for his residency in Internal Medicine at Georgetown University.
After completing his Chief Medical Residency there, Doctor Holman went on to a fellowship for Infectious Diseases at the National Institutes of Health.
His vast experience includes 24 years of practicing in the area of Internal Medicine and Infectious Diseases in Arlington, Virginia, teaching as a Professor of Medicine at Georgetown, and serving as an Associate Dean of Clinical Education for Georgetown at the Virginia Hospital Center.
Doctor Holman also served 13 years at the National Board of Medical Examiners, where he helped to develop and manage the Step Two portion of the United States Medical Licensing Exam.
He served as Internal Medicine Discipline Director for three years at Unity Health Care in Washington, DC before coming to DC FEMS.
Dr. Holman oversees the Assistant Medical Director, the Continuous Quality Improvement (CQI) Division and EMS Peer Review Division, Healthcare Services/Public Health Analysis Division, and the Controlled Substances Division.