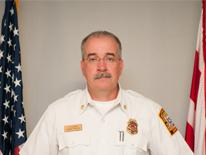 Our Assistant Chief of Operations, Craig Baker, is a 31 year veteran of the DC Fire and EMS Department.
Chief Baker was appointed as a firefighter in June of 1985, and was assigned to Engine Company 12, a busy firefighting company then located on North Capital Street.
He was promoted to Sergeant in 1991, achieved the rank of Lieutenant a little over a year later, and earned the rank of Captain in March of 1995. Chief Baker spent a large portion of his career as a company officer in the field, serving in a number of units, including Rescue Squad 2, which he commanded as Captain for over six years.
Baker attained the rank of Battalion Chief in April of 2005, and served in that position as the Assistant Training Director, and later as Chief of the Third Battalion in Southeast.
In January of 2007, Chief Baker was promoted to Deputy Fire Chief. In that rank, he served in a number of positions, including in the Homeland Security and Special Operations Division, Firefighting Operations Division, Risk Management Division, Professional Standards Office, and the Special Operations Division.
Chief Baker achieved his current rank of Assistant Fire Chief-Operations Division in March of 2015. As such, he is responsible for overall supervision and coordination of field activities, including the Operations Division, Special Operations Division, and the Homeland Security Division.