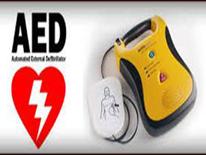 Sudden cardiac arrest (SCA) occurring outside the hospital setting is a leading cause of death in the US, about 350,000 victims die annually. The most common forms of SCA are treatable with defibrillation: shocking the heart with electrical energy delivered by an Automated External defibrillator (AED). AEDs are now commonly available in many private and public settings. Despite the rapidly growing number of available AEDs, and the need for AEDs to be retrieved and used rapidly, publicly available AEDs are rarely retrieved and used because bystanders can't see them and 9-1-1 dispatchers are typically unaware they are nearby. Knowing AED location information enables 9-1-1 agencies to help someone like you use an AED to save a life.
In accordance with DC Code (linked below), and so that callers can be directed to an AED, the Chief of the DC Fire and EMS Department shall be notified of the location and type of any AED located in the District of Columbia. To notify the Chief, register your AED at http://www.aedregistry.dc.gov/.
For further assistance, please contact at (202) 673-3320.
DC Code:
AED Map
When a cardiac emergency strikes, finding an Automated External Defibrillator (AED) can help save a life. But that takes knowing where AEDs.
The AED location data is made available to help citizen responders find, get and use an AED. The AED location data is also made available to local dispatchers allowing them to direct callers to the nearby life-saving devices.
http://dcgis.maps.arcgis.com/apps/webappviewer/index.html?id=c8d890b53b1641298a2d2b77f7f56d44