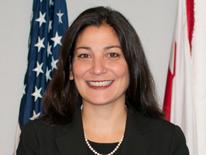 Amy Mauro is an accomplished attorney and transformative leader who has worked on critical policy issues for over two decades, in both District and federal agencies and in three branches of government.
She is a results-oriented manager and problem-solver known for her depth of knowledge on policy, legal, agency operations, and budget issues. She has vast executive, legal, legislative, public safety and criminal justice experience from her time as General Counsel and Chief of Staff at the DC Office of Risk Management (DCORM), as well as her time as a staff member in the Office of the City Administrator, DC US Attorney's Office and DC Council. She is a District native and lives on Capitol Hill with her husband and two daughters.
At FEMS, Ms. Mauro oversees the Department's public information, labor relations, general counsel, budget, program analysis, EEO and diversity offices.