The District of Columbia Fire and EMS Department is proud to report our recent progress in the area of Emergency Medical Services (EMS) reform. The Department has improved outcomes in the areas of unit availability, vehicle maintenance and repair, training of our providers, and ultimately patient care. As shown in the following information and graphics, the Department continues to make substantial progress on our goal to create better quality service for our residents and customers.

INNOVATIONS IN EMS
Right Care, Right Now Nurse Triage Line
See here for further informaiton on our Right Care, Right Now program.
PATIENT OUTCOME IMPROVEMENTS
In FY 2020, the Department adopted te National EMS Quality Alliance patient care metrics aas out EMS patient care Key Performance Indicators. You can read about our performance under these and other measures here.
NEW LIFE SAVING TECHNOLOGIES DRIVE FURTHER IMPROVEMENTS IN PATIENT OUTCOMES
Hands on Hearts Initiative
Since 2015, we have trained over 87,000 citizens in Hands Only Cardiopulmonary Resuscitation (CPR) through the Hands on Hearts initiative. For more information on our Hands on Hearts CPR program, click here. The Department is also working with the Department of General Services (DGS) to place Automated External Defibrillators (AEDs) in every school in the District of Columbia.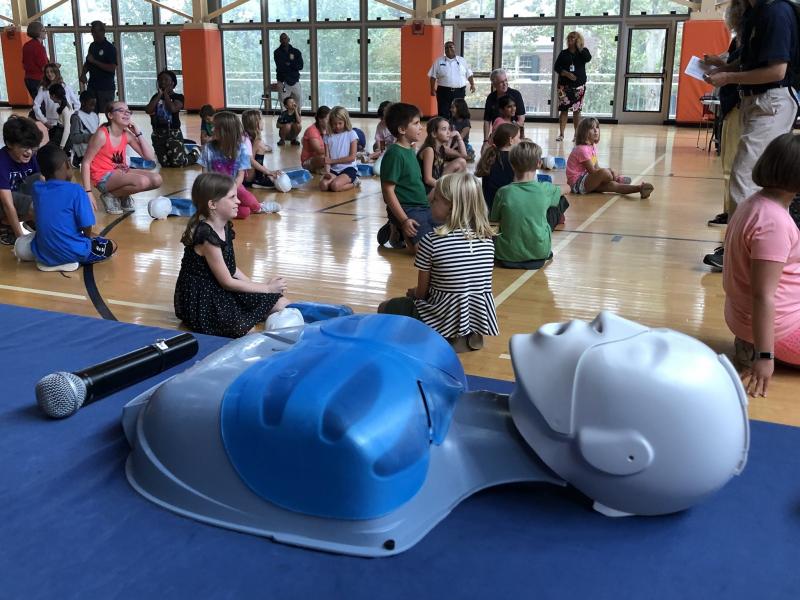 Atrus AED Locator System
The Atrus AED Locator System will allow for more first responders to know the location of automated external defibrillators (AEDs) so they can be found when needed and used quickly to help save lives. We hope these efforts will drive our survival rates up even further. For more information on our AED program, click here. For more information on the Atrus National AED Registry, click here.
Pulsepoint Inititiave
FEMS and the Office of Unified Communications (OUC) launched the Pulsepoint mobile application which can alert potential bystanders about a nearby victim of Sudden Cardiac Arrest (SCA) and can transmit the closest location of an Automated External Defibrillator (AED) to that person, facilitating bystander aid in Cardiopulmonary Resuscitation (CPR) before the arrival of FEMS personnel.
CAPACITY IMPROVEMENTS
Transport Availability
In 2016, the Department launched the implementation of the AMR Third Party contract. The partnership has significantly improved the Department's unit availability, as shown in the chart below. The chart shows our transport unit availability levels for eleven of more transports, beginning from AMR implementation in March, 2016 and ending in March, 2019:
Details - See Link FEMS Ambulance Availability
INCREASED TRAINING FOR PERSONNEL
The Department sees major increase in EMS related training hours for providers
To strengthen our providers knowledge base and skillset our Department increased the amount of training and have observed promising preliminary data in patient outcomes and in the quality of patient care. The chart below shows a 40 percent increase in EMS related training hours after the AMR partnership was implemented in March 28, 2016: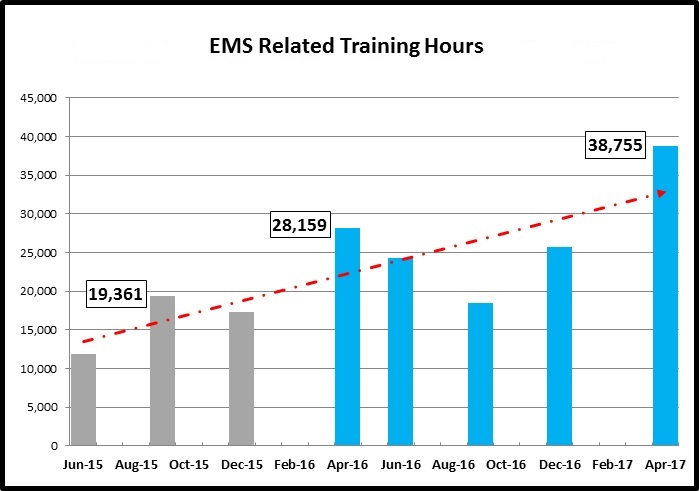 To strengthen our providers knowledge the Department has prioritized both the quality of instruction and maximizing the amount of training hours for members under the leadership of Medical Director Dr. Robert Holman. The following enhanced types of EMS training have been delivered, in addition to the existing mandatory baseline certifications:
ALS and BLS EMS Module Program

Paramedic Grand Rounds (ALS)
Company-Based, Case-Based Education (BLS and ALS)
University and Hospital Partnerships
O2X Human Performance Workshop
INCREASED FLEET PREVENTATIVE MAINTENANCE AND REPAIR
The Department has improved it's ability to conduct preventative maintenance through capacity improvements.
The launch of the AMR contract as well as the addition of new ambulances to our Department's fleet has had a positive impact on the Department's ability to conduct preventative maintenance, and on the number of operational and reserve units available. As the chart below shows, our ambulance "uptime" percentage and moving average over the last 3 years shows the Department is making steady progress: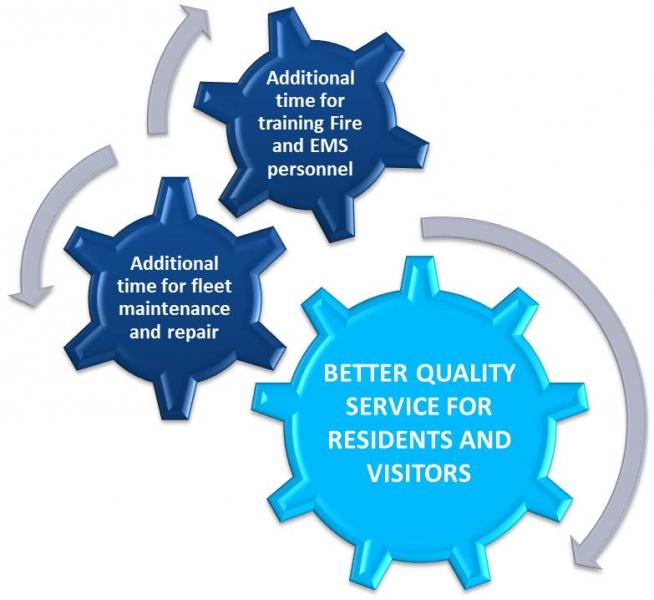 UPGRADES TO FLEET APPARATUS
The Department has put into service several new fleet vehicles to improve efficiency, service and operations.
Recently, eight new fire engine trucks were put into service along with three new EMS Supervisor buggies. The Department has also taken into delivery six new Horton Ambulances. These new vehicles will improve efficiency, service and operations throughout the Department.