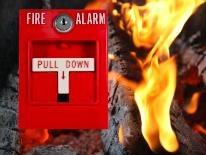 The Public Information and Public Education Office offers fire safety and fire prevention presentations by appointment at no cost. Our programs are offered throughout the community for all ages. We are available for community groups, nursery schools, day care centers, schools (pre-k to 12th grade), office buildings, and senior citizens'.
Some of the topics that we discuss are:
Smoke detector safety and maintenance
Work place safety
Fire extinguisher training -- Training Academy (202) 673-3245
Usage of 911
E.D.I.T.H. (Evacuation Drills in the Home)
Cooking/grease fires
Our programs are adapted to fit the needs of our audience. Fire Inspectors are available to assist in the formulation of fire evacuation plans and public assembly setup. On occasion, firefighters assist in fire safety presentations. Call (202) 673-3331 for an appointment.
FEMA Resources - FIRE IS EVERYONE'S FIGHT