Child Safety Seat Program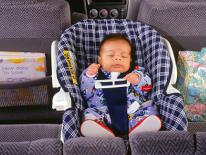 Child Safety Seat Inspections
The DC Fire & EMS Department offers free Child Safety Seat Inspection services by appointment only.
When: Monday through Friday
Time: 8 am - 4 pm
Location: 4600 Shepherd Parkway, SW Washington, DC 20032.
We also have inspections the first Saturday of each month from 11 am – 3 pm.You can view the Saturday schedule at Fire & EMS Agency Calendar.
Car Seat Purchase & Installation
Providence Hospital now offers a car seat purchase program. This is offered to district residents at the cost of $20 and non district residents $30. Money orders only, made payable to DC Treasurer.
Car seat installation information is below:
When: Tuesday & Thursday
Location: Providence Hospital Emergency Room Entrance, 1150 Varnum Street NE, Washington DC, 20017
Time: 10 am - 3 pm
Sponsored by: DC Fire & EMS Department
Contacts: Terrie Matthews (FEMS) (202) 904-6887
* Please Note That All Dates and Times Are Subject to Change